Appearance: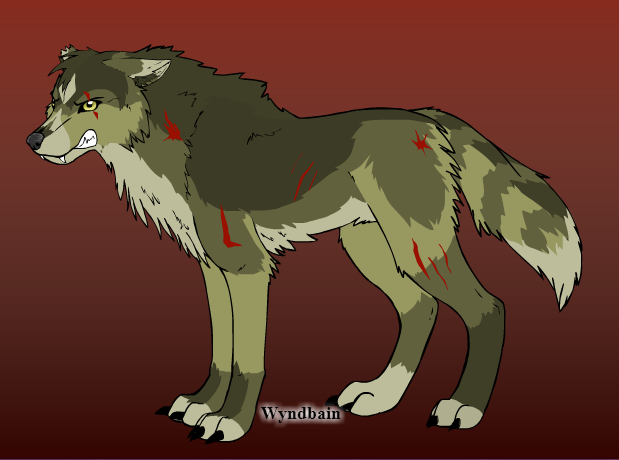 Name: Kriff
Species: Grey Wolf
Gender: Male
Age: Almost 2 years
2 Bad Traits: Headstrong, cruel, and will do anything to get what he wants
2 Good Trait: Fast, brave, and perceptive (personality-wise)
Personality: Kriff is outgoing and tends to be one of the "bad boys". He's in the wrong crowd if you know what I mean.  He's not afraid to speak his mind, and will challenge anyone who tries to take his right to do so away (except the alpha).  Around his friends he's the leader and he takes control of the situation. He can be extremely intimidating. He's had to be, what with other laughing at him because of his parent's fiasco. That's a touchy subject for him and should you mention it you'll be sorry. He has a good temper, not meaning he's nice but meaning he's always got a straight face. If he's smiling it means he's up to something and it's recommended that you run. Fast.
History: Kriff had a fairly standard childhood. His mother was too nice and his father was too strict and his brother? Too young. Too annoying. And Kriff hated annoyances. He never pretended to like his brother, but you know how younger siblings are. Always looking up to you. So one day, Kriff came up to his brother. "Want to come with me and the guys to the hang-out?" he asked casually and the little fool readily agreed. The hang-out is exactly what it sounds like: a cliff over rushing rapids. When they got there his little brother asked rushed out to see the view. He looked back, "where are the others?" he asked. "They aren't coming," Kriff replied, "No one is coming." Kriff stepped forward, his bulk trapping the younger male between himself and the ledge. "I want to go home," his brother whined. "You're never going to see them again. They don't want you." Kriff snarled, speaking of their parents, and with that he shoved his screaming brother into the rushing water below. Assuming the best, he set off happily home, his secret forever hidden. But the idiot lived! Sadly his brother's disguise was worn away and when the soaking barely-out-of-his-pup-years came whimpering home to a father who saw what he really was, he was banished and with little hope of survival. His mother was sent away too for hiding things. Now Kriff is safe with his secret…… or is he?
Others:
Theme Song: Dirty Little Secret – All-American Rejects (speaking to deceased brother)
Appearance: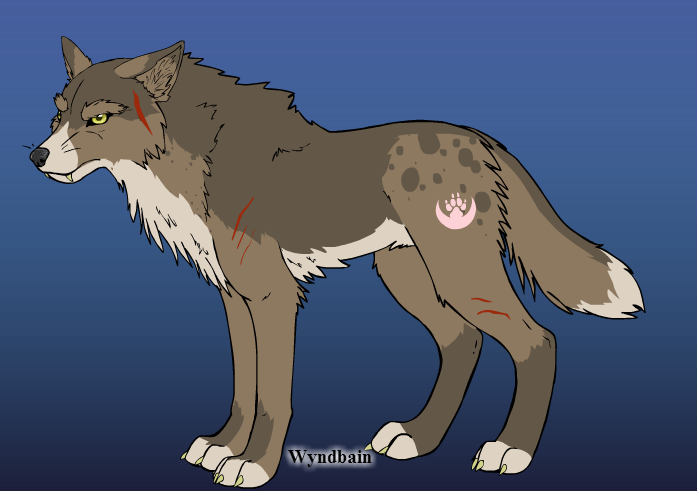 Name: Vincent
Species: Grey/Dire Wolf mix
Gender:  Male
Age: 7 years
2 Bad Traits: Hates breed-mixing/unnatural colored wolves, strict, and emotionally unattached. Weakness: semi-colorblind
2 Good Trait: Strong, calm, and always has a plan
Personality: Vincent used to be a nice decent wolf, until the poisons of life corrupted him. The bitter hatred for his parents made him cynical. Friends made him tough. Everyone else made him uncaring, until they dragged a trembling Kira into their ranks. Somehow, he and the she-wolf fell in love and out of that came two sons. Vincent liked Kriff. The other was… too… Vincent didn't exactly know, but something was wrong. He was proved right the day his son came scrambling home—a freak. After this Vincent let go of any love he felt, including Kriff's. Though the pup had done nothing wrong, Vincent's heart couldn't take it. He's proud of his son, yes, but that's not love. He shuts others out of his life.
History: Vincent has been in the Militia for as long as he can remember. He despised his parents because they "mixed breeds" which he is against because you make that population more weak (mostly for the Dire wolves). He didn't really care for anyone until he met Kriff's mother. Being colorblind, he didn't notice the hint of green in her fur at all… until one of their sons had really green markings. Feeling foolish and betrayed, he banished the pup who was barely weaned in the hopes that it would die. He sent her away too. For lying to him and the entire pack, she was killed. And it wasn't a fast death. Each wolf got to have their violent way with her and then she was kicked out. The last time anyone saw her, she had scratches all over and a swelling black eye. She was limping on her right front and left back leg. Now, Vincent refuses to look at another she-wolf, assuming he'll be tricked again.
Others: Not really
Kira: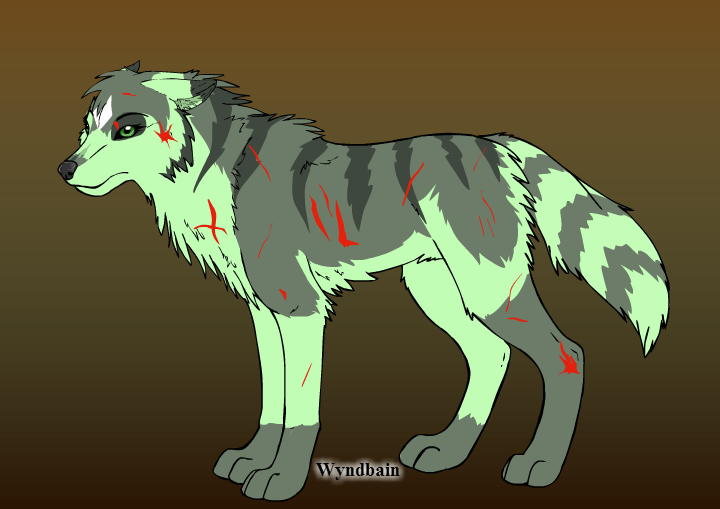 SPOILER:
.
.
.
.
.
Vincent is Blade's father and Kriff is his brother. This might be why Blade is so rude/mean to others mostly.
Last edited by Blade on Tue Nov 12, 2013 8:03 pm; edited 1 time in total
~*^<The Strays>^*~

-------The Militia-------

Awesome Bio Blade ! Might make a great story for a book

~*^<The Strays>^*~

-------The Militia-------

Admin





Posts

: 180


Location

: Munch Munch Munch (._.)



So would Raiden and Cerberus' relation/past. xD
~*^<The Strays>^*~

-------The Militia-------


Appearance: (will add later, it's up in Kriff and Vincent's part anyways)

Name: Kira
Species: Dire Wolf (see how I attracted Vincent, eh?)
Gender: Female
Age: 6 years
2 Bad Traits: Old age (somewhat), outcasted, fear turned to malice
2 Good traits: A brilliant way with words and the knows a lot about others without them knowing a thing about her.
Personality: Kira's a bit vain, feeling pretty high and mighty surviving in this harsh area all by her lonesome for so long. At the same time she's a bit twisted, and bit loony from being alone. She still has that way with words, speaking politely. She can be dramatic, likes to hold attention, but knows when to cut to the chase. She's a fan on hunting games. After all, you gotta have fun sometimes, right? The rest you can kind of pick out by how she talks to people.
History:
I won't bore you with my childhood. It was dull, to say the very least. Brothers, sisters, loving parents, the whole she-bang. I was pretty, I was loved, and my family never had it hard. Not a single enemy. Or so I thought. At two years old I set off on my own, and at two years old I was captured by ruthless creatures. You. You dragged me into your ranks. I'd never been so manhandled in my life! Of course I was scared! But then he helped me. Vincent. You made it worthwhile to stay there, dear. You loved me, and I you. I gave you sons, and you loved them. For awhile, I thought I could change you. I hid the one who took after me until you could handle it. But you never could. I thought if you loved me you could see past what was wrong on the outside of me and love within. But I was wrong... you saw NOTHING! You turned on me. YOU betrayed me... and god-confound-it I still loved you! For awhile I thought I deserved it, for lying. I deserved to be beaten, have my sons and my love taken away, to be exiled from wolves, but I was wrong. I never LIED. I just never spoke the blatant TRUTH. And that's different. You never asked and I never told. And now Vincent, I'm back... and you're going to pay, whether I love you or not.
[aka Kira loves him but she's still a little mad he had her outcasted for not saying she was greenish... this was before Cerberus took joint-control, and Vincent ruled as a dictator like most pack's are run]
~*^<The Strays>^*~

-------The Militia-------



Similar topics
---
Permissions in this forum:
You
cannot
reply to topics in this forum